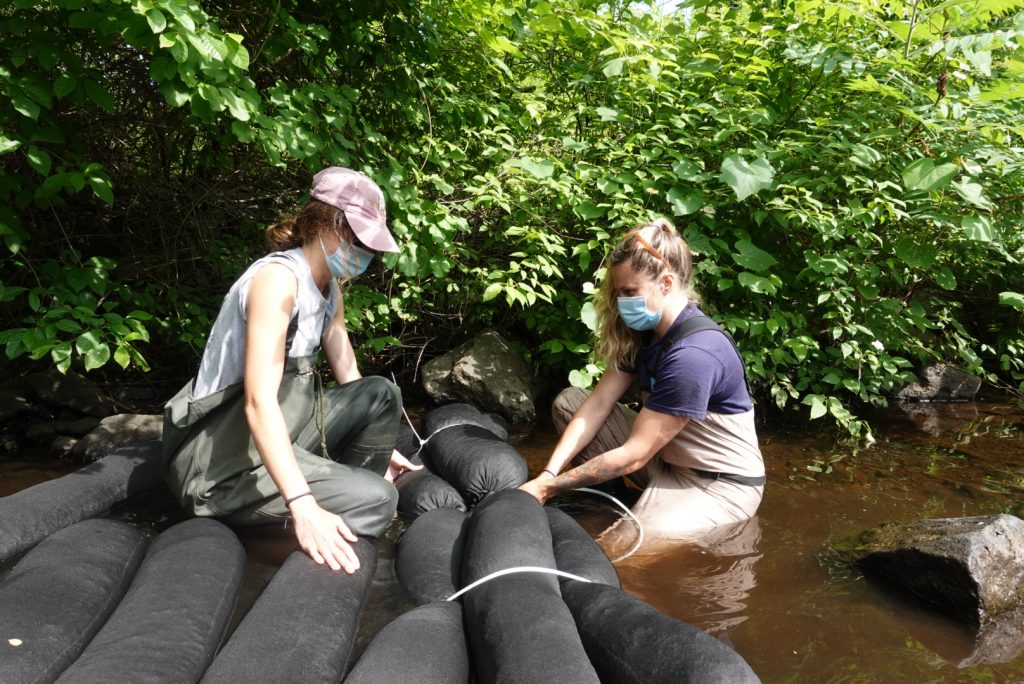 Installations of Biochar, a woody material with a high affinity for a variety of pollutants including phosphorus, began around Lake Hopatcong on Thursday July 2nd as part of the NJDEP harmful algal bloom (HAB) management grant provided to the Lake Hopatcong Commission with project partner, the Lake Hopatcong Foundation.
Following a training session by Princeton Hydro with municipal Department of Public Work employees on June 11th,  Biochar "socks" were placed at four inlet locations around the lake last Thursday.  Locations include the Lake Winona Outlet, Lake Forest Yacht Club in Jefferson, Lakeside Ave and Holiday Ave (Near Ingram Cove) in Hopatcong, and at the Edith Decker School inlet in Mount Arlington.  Princeton Hydro staff conducted the installations and will be monitoring water quality both up gradient and down gradient of the Biochar locations to evaluate how effective the material is at removing phosphorus from surface water before it enters the lake.
There are many applications for Biochar, it can be placed in flotation balls or cages and tethered along a beach area or where an inlet enters the lake. This product has been shown to remove dissolved phosphorus directly from nearshore waters in turn limiting algal growth. The purpose of this project and all projects initiated under the grant is to evaluate innovative technologies to control, prevent, or mitigate HABs on Lake Hopatcong.  Biochar is a relatively low-cost option for phosphorus removal and has the added benefit of compost once its capacity to absorb phosphorus is exhausted.  Phosphorus is held within the product it won't leach back out, instead when biochar is used as a compost/mulch plant roots grow into the material and uptake phosphorus directly.
Additional installations will occur at Duck Pond in Roxbury, Memorial Pond in Mount Arlington and in two manufactured treatment devices (MTDs) in Jefferson Township the week of July 13th.  If evaluation by Princeton Hydro indicates that Biochar effectively reduces phosphorus levels, the product could be a cost effective option for lowering phosphorus, and a good preventative tool for limiting the risk of harmful algal blooms on the lake.