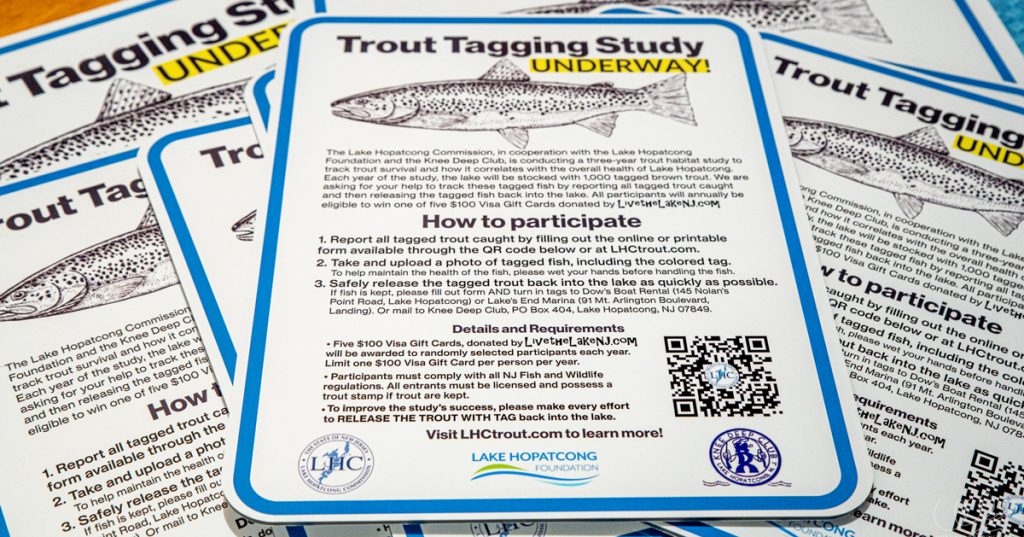 The Lake Hopatcong Commission in cooperation with the Lake Hopatcong Foundation and Knee Deep Club of Lake Hopatcong is running a trout tagging study to monitor trout survival in Lake Hopatcong over the summer months. All trout stocked under the study are tagged, and we are requesting that all tagged trout be reported and safely released. To ease any stress on the fish -please report only the tag color. It is essential to Not Stress Out the Fish.
If a fish is kept, please still fill out the form below and turn in tags at Dow's Boat Rental (145 Nolan's Point Rd, Lake Hopatcong 07849), Lake's End Marina (91 Mt Arlington Blvd, Landing, NJ 07850), or to the Knee Deep Club (PO Box 404, Lake Hopatcong NJ 07849).
The study is expected to run three years.  At the end of each year five participants will be randomly selected for a $100 Visa Gift Cards generously donated by Live the Lake NJ.  To be eligible for prizes you must fill out the form below and either turn in the tags at one of the locations above, or submit a photo of the fish with tag.
Learn more about the history of the study in this article by Tim Clancy, originally published in the Knee Deep Club newsletter.
Tagged Trout Stocking Day