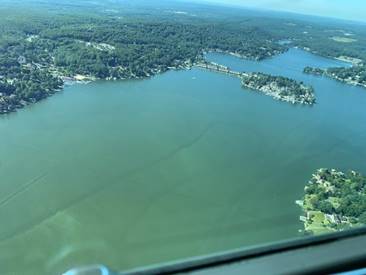 The NJ Department of Environmental Protection is advising the public to avoid swimming in, or contact with Lake Hopatcong water due to an extensive Harmful Algal Bloom, or HAB, confirmed this week by aerial surveillance. The DEP will monitor cyanobacteria levels until the lake is determined to be safe for recreational contact. As a precaution, the DEP is recommending that local health authorities close all public swimming beaches along the lake due to the widespread nature of the bloom.
Recreational exposure can occur while swimming, wading and during watersport activities such as jet skiing, kayaking, wind-surfing and paddle-boarding. The DEP is advising the public to avoid these activities and all contact with water from Lake Hopatcong until further notice. People also should not eat fish caught in the lake or allow pets to come in contact with lake water or drink the water.
Link to News Release: June 27, 2019 NJDEP News Release
As we did in 2018, the Commission has hired their environmental consultant, Princeton Hydro to conduct cyanotoxin monitoring at beach-based sampling stations on Lake Hopatcong.  This sampling will be completed next week and again in August 2019.  The Commission will share results as they are received.
Additionally, at the Commission's next monthly meeting on July 8, 2019 our environmental consultant Princeton Hydro will be making a presentation on harmful algal blooms.  The meeting will be held July 8, 2019, 7:00pm at the Jefferson Board of Education Building, 31 NJ-181, Lake Hopatcong NJ.
For additional information on Harmful Algal Blooms please visit the NJDEP website at NJDEP Harmful Algal Bloom Webpage